The world's first custom-branded solar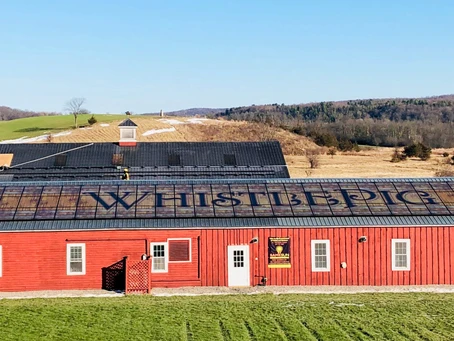 Solar as a branding medium: the story of our innovative project with WhistlePig
Solar is a tough gig. If you are an installer, you spend months, sometimes years, chasing a prospect, you pitch numerous times, patiently wait through long periods of silence, only to eventually find yourself in a competitive bid with other solar installers. And if you are a brand, you get pitched a different version of the same proposal by every company: how do you choose when every installer is claiming the same "differentiators" — quality products, bankable warranty, exceptional customer service?
This is the situation Same Sun of Vermont found itself in in August of 2019. They had long pursued WhistlePig, a premium rye whiskey brand out of VT (and of Breaking Bad fame). After more than six years of being pitched, WhistlePig finally decided to go solar, but under one condition — they wanted their bottling plant and warehouse in idyllic Shoreham to have a dramatic looking rooftop.
After WhistlePig narrowed its choice to Same Sun and another installer, Vice President Khanti Munro reached out to us for a solution. Within a couple of days, Sistine's world-class design team put together a concept rendering of a custom-branded array for WhistlePig using SolarSkin. In just three days, WhistlePig picked the SolarSkin design and awarded the contract to Same Sun!
The design pitched by the competition
The winning design using SolarSkin by Sistine Solar
Thus began one of the world's most spectacular solar installations. Sistine's design team went to work with WhistlePig's branding and marketing teams and iterated on a few aesthetic concepts until we arrived on one that hit exactly what they envisioned — their cherished logo set against a rustic backdrop of whiskey barrels. Our manufacturing team then produced 173 SolarSkins custom sized to be applied onto high-efficiency Panasonic 325W modules.
The 56KW installation went atop the distillery roof in December 2019. As the winter sun made its appearance on the last day of the install, the array came alive in its full glory.
Image courtesy of Same Sun of Vermont
"Not sure if you've seen this yet, but I took the above picture this morning...Thanks for your help in the design process. It looks so good!"
Jeremy Palmer (Maintenance Supervisor, WhistlePig)
Here are a few more pictures from different angles:
Image courtesy of Same Sun of Vermont
Image courtesy of Same Sun of Vermont
Image courtesy of Same Sun of Vermont
"I just wanted to personally express our gratitude to your team for delivering exactly, or perhaps better than you had promised. You delivered the product ahead of schedule, in a very organized and prescriptive manner, and I dare say now that it is complete that when the full sun is out, the finished product actually exceeds your mockup. We, as well as our customer, are very pleased. So thank you."
Khanti Munro (Vice President, Same Sun of Vermont)
With the array commissioned and pumping clean electrons into the grid, we are thrilled to start the new decade with an install like this under our belt. But, this is just the tip of the iceberg for SolarSkin — we have a suite of head-turning projects in the works, spanning airport installations, branded carports, solar murals, architectural facades, custom-themed church rooftops, to name just a few.
Are you a brand looking to add the magic of your branding and marketing to your solar? Sign up here.
Are you an installer interested in closing your next customer with the power of SolarSkin? Head here.