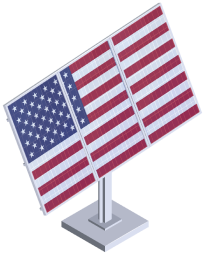 DESIGNED TO FIT ON ANY TRADITIONAL SOLAR ARRAY.
The most pronounced benefit from SolarSkin applications is being able to customize your panels to fit any aesthetic. All with minimal energy loss to protect your energy savings forecast.
About
DESIGNED BY MIT ENGINEERS

The Sistine Solar founders developed a full color palette, successfully completed testing and launched commercially in 2016.

MULTIPLE LONGERTERM TESTS

Our technology has passed IEC 61215 durability testing at NREL and has been deployed in 18 states nationwide with outstanding performance.

UP TO 99% ENERGY YIELD

Depending on the chosen graphical design, energy yields will range between 92% and 99% of the panel manufacturers energy generation.
Designed to maintain yield
Full coverage

85% Energy Yield

Half coverage

92% Energy Yield

Partial coverage

98-99% Energy Yield
BACKED BY
Tested at