Sistine Solar's Award-Winning SolarSkin™ Technology Used in Flagship Universal Orlando Installation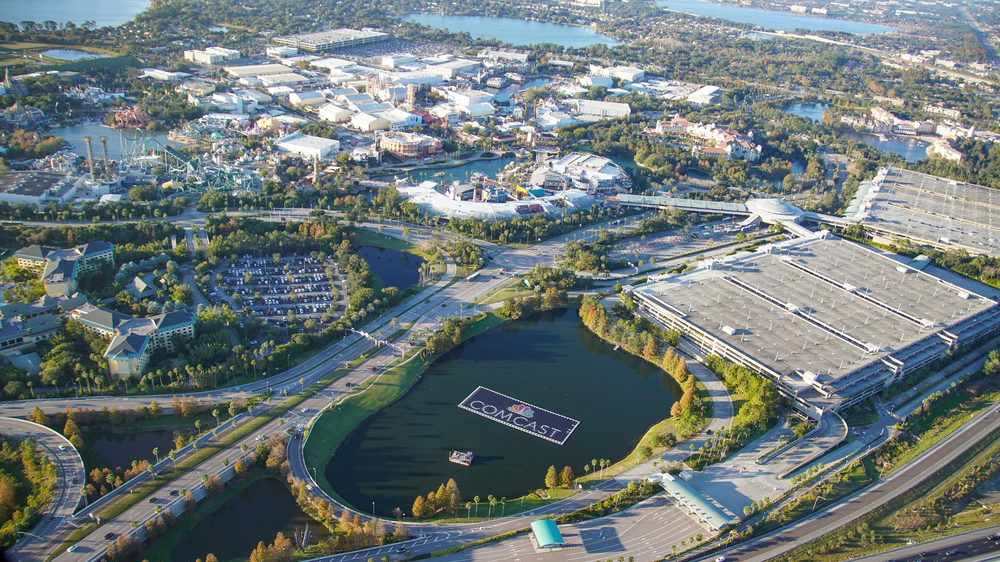 In this blog post, read about how SolarSkin™ by Sistine Solar helped a Fortune 50 company and one of the world's most iconic theme parks celebrate their brand and showcase their commitment to sustainability in spectacular fashion. Visible from the popular rollercoasters nearby, celebrated in aerial footages, and symbolizing to the next generation of kids that solar is the new normal, this SolarSkin installation is the ultimate fusion of art and engineering, of branding and sustainability, of concrete action and powerful storytelling.
Too busy to read?
Scroll down to the end for more stunning footage
In our eco-conscious world, more and more corporations are committing themselves to a 100% renewable energy future. Apple, Ford, McDonald's, Microsoft, PepsiCo, and Anheuser-Busch made their pledges last year. Elsewhere, the Amazon Climate Pledge has been adopted by over 18 brands including Amazon, JetBlue, Rivian, Mercedes-Benz, Verizon, and Best Buy to name a few. Another household name that is similarly marching towards a net zero future is Comcast, which aims to power all of its sizeable footprint of 3,000 buildings with 100% renewable energy.
Project Highlights
Project type: Commercial
Size: 250KW
End Customer: Comcast + NBCUniversal
Artwork: SolarSkin™ featuring Comcast branding with the iconic NBCUniversal Peacock logo
Location: Universal Orlando Resort, FL
Project Partners: D3Energy, Sistine Solar
Modules: ZnShine
The Challenge
Brands care about renewable energy because it is the right thing to do for the planet's health and because their customers are actively demanding such leadership. In this context, it is vitally important that they not only go sustainable but also communicate and showcase that commitment to sustainability to their present and future customers. With these dual goals in mind, Comcast laid the charge to our partner installer, D3Energy: deliver them a solar array at their iconic Universal Orlando Theme Park in Florida that not only produces clean energy but also spotlights their brand in a powerful manner.
The Solution
D3Energy turned to the Sistine design team and our patented SolarSkin™ technology to answer this call. Our team relished the many challenges that came with this project. The eyes of the world would be on this installation, with an estimated 11 million visitors coming through the gates of Universal Orlando every year. This would be the first time SolarSkin would be added to a floating solar array. To top it all off, the design would need to be stitched across 200+ panels and span the full spectrum of colors in reproducing the iconic NBC peacock logo.
Such challenges highlight the incredible versatility and range of SolarSkin™. Our advanced algorithms kicked into action to generate the most vibrant colors at the highest efficiency. Our proprietary visualization software helped us to determine with real-world accuracy the optimal way to stitch the design across multiple panels while taking into account panel tilt, inter-row spacing, and multiple viewing angles. Finally, SolarSkin's universal compatibility with any panel technology allowed us to work with D3Energy's preferred module choice.
The Outcome
In close partnership with NBCUniversal's art director, we created a balanced reproduction of Comcast's brand name and logo. D3Energy was able to seamlessly integrate SolarSkin to the array under their normal deployment schedule. In a case of reality being more wondrous than imagination, the end result was a stunner that surpassed even our own early renderings.
As they say, pictures are worth a thousand words. Take a peek at a few of the photos from the installation.
Floating solar array being assembled with close up view of SolarSkin™ panels in place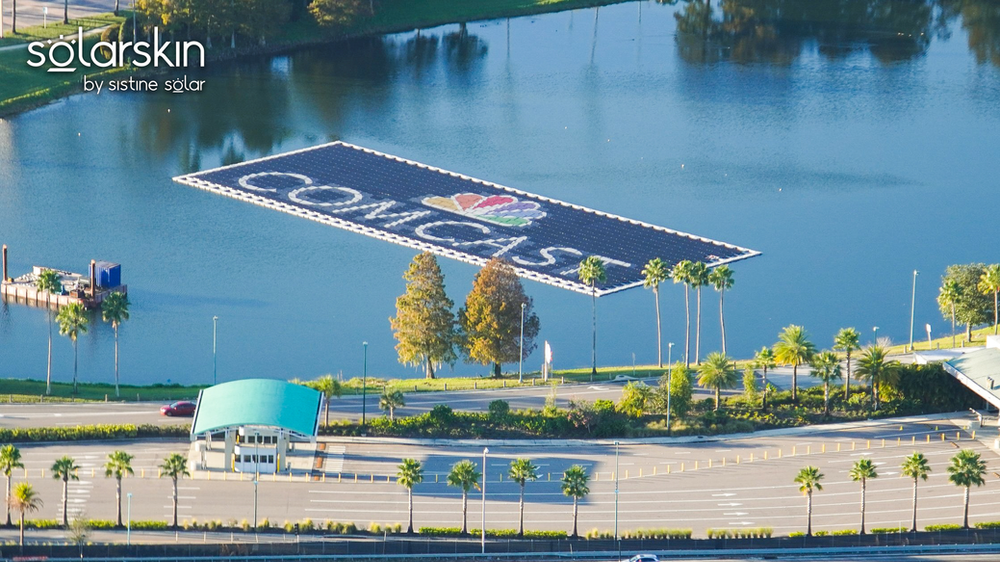 And now, this floating array, the world's first to integrate branding, is a crown jewel in Comcast/NBCUniversal's journey towards a 100% renewable energy future. Welcome to the future of solar!
For more information on SolarSkin's power to transform your commercial project, step ,here.