FOR Energy — Installer Spotlight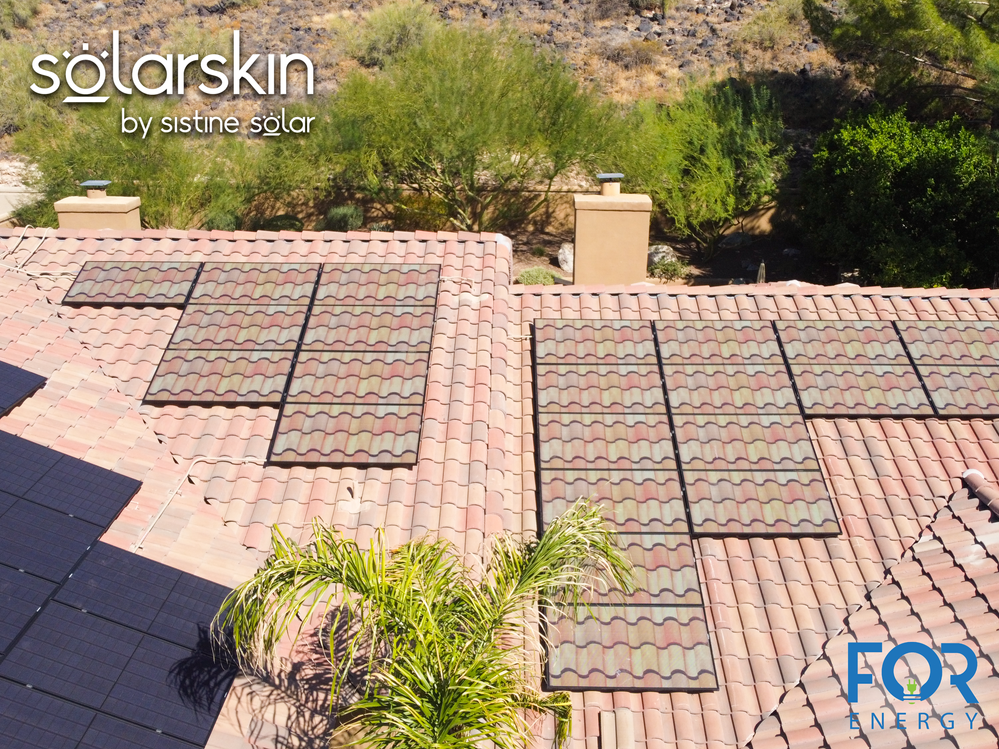 Happy new year, and welcome to 2021's first Installer Spotlight story! In this edition, we profile the eye-catching tile roof SolarSkin installation that our partner, FOR Energy, completed in Phoenix, AZ. FOR Energy is a leading solar installer serving over 13 states around the country with a reputation for outstanding customer service.
Going above and beyond to delight customers is in FOR Energy CEO Sean McGraw's DNA, so when a prospective Phoenix customer expressed their objection to having traditional black solar panels for their front roof, Sean did not shirk from the request. He spent several months working with the client to explore alternatives and once he found out about SolarSkin by Sistine Solar, the solution was clear! Sean reached out to the Sistine team and in a matter of a few weeks was able to close the contract with the client with the addition of SolarSkin. Scroll below to see beautiful drone footage of the end result, and notice how much better the front roof panels look compared to traditional black panels in the other roofs!
Check out the spectacular end result below!
Project Highlights
Project type: Residential
Roof type and color: Terracotta Tile
Panel make and model: REC Alpha 355W
Location: Phoenix, AZ
Interview with FOR Energy CEO Sean McGraw
We sat down with Sean to ask about his experience working with SolarSkin and Sistine Solar:
Sean, why did you choose SolarSkin for this project? Were there any barriers that SolarSkin helped you overcome in winning this project?
When working with the client, who was new to Arizona and from a place with not a lot of solar, the client could not overcome the aesthetic of the solar panels. This is an objection that is typically extremely hard to overcome. I worked with them for several months before they went out and found SolarSkin. I had not heard of the product before but after researching it, we decided to try it out. The process was simple and the customer loved the final look of the installation!
What was the experience like working with Sistine and the product?
The process was simple from start to finish. We were asked to take a couple of high quality pictures of the roof and submit so the skin can be made to a match. The skin was then cut to exactly the size of the solar panel and shipped. Once received, our team, who has no previous experience installing anything like this, got it done in a couple of hours. It was a fun process!
How did the outcome turn out?
The homeowner absolutely loves the final product. Their panels blend and look natural with their tile roof. Several neighbors are now interested in solar because of the aesthetic.
Beyond the homeowner, what has the reaction been like to the installation and technology among your peers and other installers in the industry?
We are a trusted partner of Titan Energy, the country's leading nationwide installer, and we installed the product in their warehouse with several solar professionals walking by. Everyone who saw what we were doing stopped to watch and ask questions. The feedback was extremely positive.
Is there any other feedback you would like to add?
This is a great product to differentiate your company, overcome the aesthetics objection, and really provide a unique experience for the consumer that will ultimately lead to referrals and future business.
Thank you, Sean, it was a pleasure for us working with you and the FOR Energy team on this exciting project — the first of many to come!
For more information on SolarSkin's power to transform your residential project, step ,here.