Same Sun of Vermont — Installer Spotlight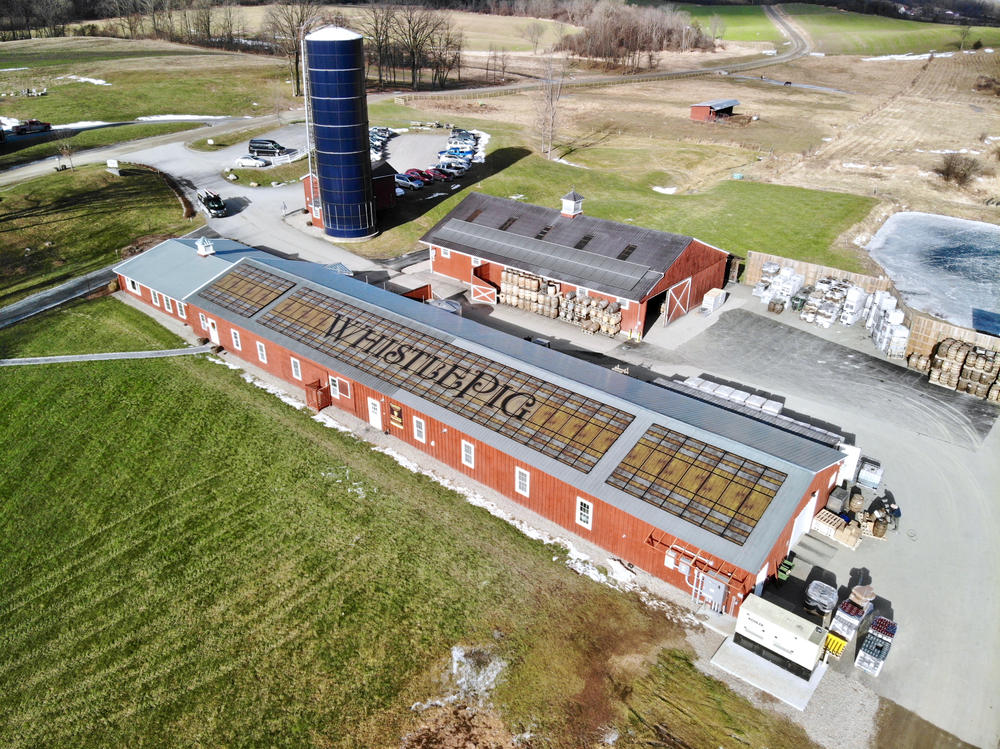 Welcome to our ongoing Installer Spotlight stories! In this edition, we look back a year on from our trailblazing project with Same Sun of Vermont, which saw the unveiling of the world's first custom-branded solar installation for WhistlePig distillery in Shoreham, VT. Same Sun of Vermont is a full-service solar designer and installer providing customer-driven solutions for the residential and commercial markets in Vermont, New York and New Hampshire.
Thinking outside the box and bringing to life even the most challenging and custom projects for clients is something that Same Sun of Vermont's Vice President, Khanti Munro, relishes. After pursuing WhistlePig for over six years, Khanti and team closed the deal with the client using SolarSkin™ by Sistine Solar in the fall of 2019 (a story you can read in full here). Over a year and two intense Vermont winters have passed since the project was commissioned, so we thought it would be timely to check in with Khanti on how the experience has been and how the system has been performing.
Check out the spectacular end result below!
Project Highlights
Project type: Commercial
Size: 56KW
End Customer: WhistlePig
Artwork: SolarSkin™ featuring WhistlePig branding and Whiskey Barrel Wood; metal roof accent on back warehouse roof
Location: Shoreham, VT
Project Partners: Same Sun of Vermont
Modules: Panasonic 325W
Inverter: Enphase
Interview with Same Sun of Vermont Vice President Khanti Munro
We sat down with Khanti to ask about his experience working with SolarSkin and Sistine Solar:
Why did you choose SolarSkin for the WhistlePig project?
It was a deal-closer, plain and simple. WhistlePig had explored going solar multiple times, but was not impressed enough by the financial argument alone; it had to also visually promote the brand. They would not have gone solar without the SolarSkin solution. It was also the obvious choice as there was no other clear alternative in the market that both maintained production and looked incredible.
What was the experience like working with Sistine and the product?
Senthil and his team were invaluable in their partnership. They were responsive and timely, and delivered high quality visual mockups on our tight deadline, including multiple graphic options to choose from. We worked with a locally trusted graphics company to assist in adhering SolarSkins to the modules, and once that was completed, Sistine's 'module legend' made installing the branded array fairly straightforward. Of course, since the array actually spelled something, extra care was taken to square and level mounting rails.
How did the outcome turn out?
The finished product is stunning – when the sun shines on the array, it is arguably more impressive than the graphic mockup. All parties were notably impressed. The intended branding is clearly visible from both the air, and their high-end tasting deck, some few hundred feet away.
What has the reaction been to the installation and technology among your peers and other installers in the industry? (The project was spotlighted by Panasonic and Enphase, and showcased as one of the five most unusual installations of 2020 by Solar Power World)
Reaction from colleagues in the solar industry has been mostly positive – lots of awe-inspired compliments and shock not knowing this was possible. There was the inevitable confusion about why anyone would accept less production, but consensus around this being a valuable tool for promoting solar adoption in difficult areas or with challenging prospects. The publicity around the project has elevated Same Sun's reputation for custom and creative work for high-end customers.
How is the project performance a year on, and what would you say to installers who might have concerns around adopting SolarSkin because it is a new technology?
We were relieved to see the annual production of the system slightly exceed our stated estimate to the customer, given our lack of experience with skinning modules. Sistine told us to expect 20% losses from the specific skins we were using, and after a year they appear to have been right.
Any other feedback you would like to add?
I'd suggest 'certifying' or working with graphic companies that solar companies can partner with. Creating a mock-up web based engine where installers could create quick custom mockups would also be helpful. I'd also recommend putting out a white paper showing results of analyzing real world data monitoring of installed systems.
Excellent ideas, Khanti! We are pleased to share that we are growing our network of graphics professionals we can recommend our partners to use for application of SolarSkin. Likewise, we have developed new visualization tools with which we are able to turn around custom mock-ups for our partners in under 24 hours. And what better study to share than the real-world performance of projects like this where SolarSkin panels have performed better than promised through some of the harshest wintry weather conditions prevalent in New England!
Thank you, Khanti, it was a pleasure working with you and the Same Sun team on this groundbreaking project. Something tells us this won't be the only collaboration between our teams!
For more information on SolarSkin's power to transform your commercial project, step ,here.