A Style Guide to Solar Panels: Four Tips on Maintaining Aesthetics with SolarSkin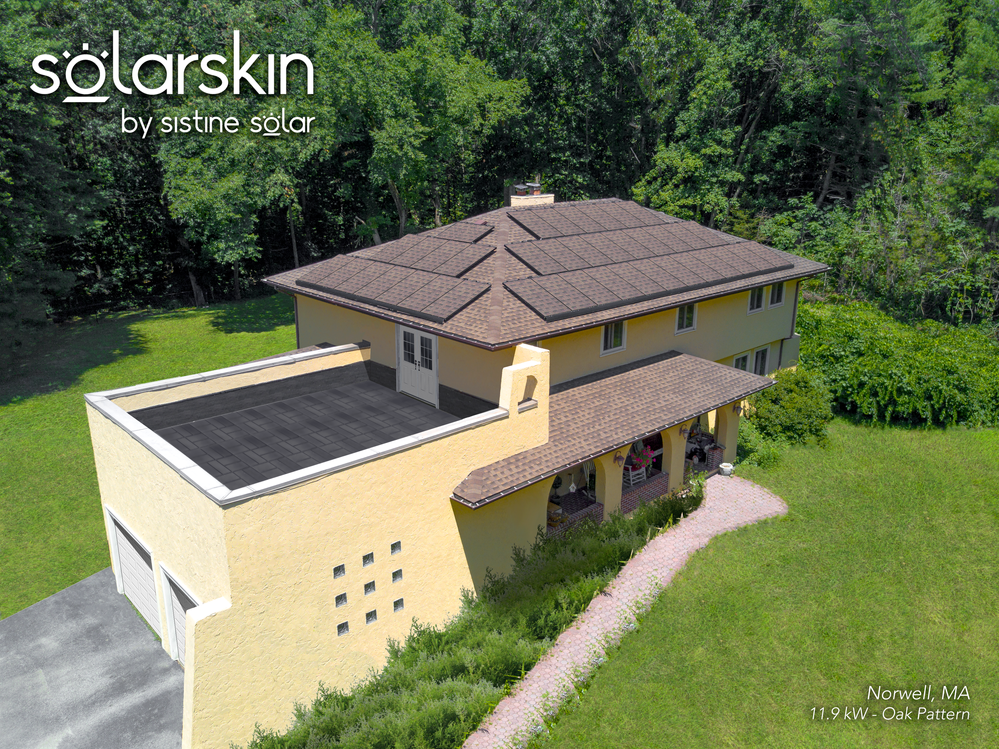 Solar technology has come a long way since 1884, when the first system was ,installed on a New York rooftop with selenium cells of 1% efficiency. Government policy and improved technologies have driven prices down ,99% over the last four decades, yet many homeowners are still hesitant in considering this switch to clean energy. In a digital age that values sleek designs and appealing visuals, solar panel aesthetics can propel its presence forward in the United States. You may have a predominant idea of solar when it comes to mind: panels that are bulky, distracting, and an eyesore. This may have been true of that first installation of selenium cells, but in today's world there are many ways solar arrays can be customized to fit your unique needs. In this post, I'm going to delve into my top four tips on how you can style your solar panels and create a look that is seamless, aesthetically-pleasing, and specific to your home, with the help of SolarSkin.
Color: It's Much More Flexible Than You Thought
Solar panels are currently offered in a few main types: monocrystalline, polycrystalline, and thin-film. ,Each has their advantages and disadvantages relating to cost and performance, but when it comes to aesthetics, there is little differentiation, with the panels coming in either blue or black. This lack of flexibility in color is a turn-off for many homeowners, who worry that solar simply won't blend in with the surrounding roof color.
Color, or the lack of, is a key element that turns many people away from making the switch, as panels can appear to be so stark in comparison to their surrounding surfaces. Today, you no longer need to sacrifice a coherent color palette in going solar. A solution has emerged that is compatible with existing solar technologies and allows for customizable, visually-pleasing, cost-efficient designs. Sistine Solar's SolarSkin is an aesthetic overlay that transforms traditional panels into ones that blend in with the surrounding roof. Imprinted with a graphic of your choosing, it can blend in with the color and pattern of your roof, no matter what style it is -- asphalt shingle, clay tile, concrete tile, or metal. It is also compatible with all module brands. Think of it like the screen protector of your phone, except for the panels on your roof. This approach has allowed the door to be opened to endless possibilities when it comes to custom solar arrays.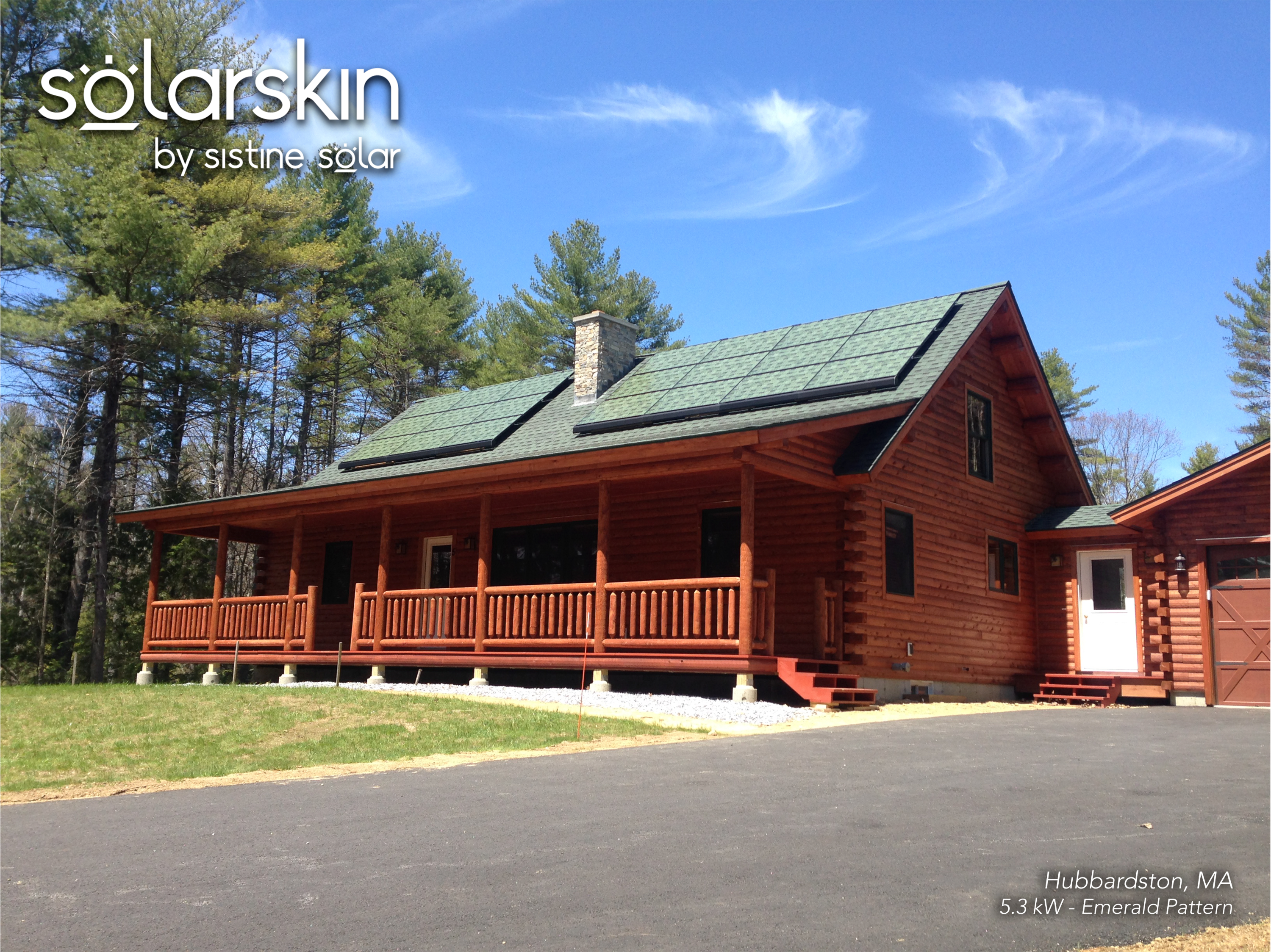 5.3 kW SolarSkin installation on a log cabin home in Hubbardston, MA (Installed 2016). Photo on the left shows what panels looked like before the addition of SolarSkin.
It's all about aesthetics, and for the homeowner, creating solar panels that are beautiful as well as functional. Born out of MIT, SolarSkin is the most efficient aesthetic solar technology out there. It achieves net efficiencies of 17-20%+, which is ,comparable to conventional solar panels and double that of the Tesla Roof. SolarSkin has undergone rigorous testing at some of the world's top solar research centers, such as NREL and the Fraunhofer Institute. Not only has it passed for long-term light transmission, color retention, thermal stability, and more, but installing SolarSkin will protect your panels from UV damage and temperature, increasing their longevity and giving you more peace of mind.
As if the options weren't broad enough, SolarSkin comes in three levels of vibrancy that allow you to choose your preferred balance between aesthetics and panel production. The base Brilliance offers the highest vibrancy and most eye-catching aesthetic. But a homeowner wishing to sacrifice some aesthetic in exchange for incremental increases in efficiency can also opt for the Allure or Elegance options that are relatively darker and more subdued in appearance.
At Sistine, we are changing the landscape of residential solar energy because we believe design can greatly enhance this process for homeowners. With SolarSkin, your installation will be driven by your specific needs and beautiful solar panel aesthetics.
Profile: Preserving Solar Aesthetics with Thoughtful Installations
The second element to consider is profile. Solar panels require around a six inch gap from the roof surface to maintain air flow and thus reduce heat-induced degradation. However, this gap conflicts with the aesthetic design many homeowners wish to prioritize in going solar. This doesn't even include the mounting rails that are often used in installation, that can protrude from the edges of the panels and create more unpleasant places for the eyes to wander.
This problem is eliminated when a railless system with a decorative front skirt is used in installation. No pieces sticking around the edges into view, in addition to a sloping front skirt, makes the panels appear more flush with the roof's surface.
Notice the large gap and railings that protrude from the side (left). At right, you see a SolarSkin installation in Norwell, MA that used railless mounts and sloping skirt. Much easier on the eyes, right?
Layout: Organization is Key
Layout is the third element to consider in installing a solar array that is aesthetically pleasing, environmentally conscious, and fully functional. The idea is to lay panels in a continuous array that covers most of the roof face, and stays in line with the geometry of the roof. Additionally, a symmetrical layout is most preferable in drawing less attention to your panels.
Notice on the left that the panels don't harmoniously follow the geometry of the roof. It is crucial to lay the panels in a continuous array wherever possible (Right, a SolarSkin outfitted garage in Holbrook, MA).
Layout: Hide Those Wires!
The fourth and final element of functional and eye-pleasing design is wiring. Solar panel systems contain many components, and it is crucial that an installation is properly executed to ensure these components are thoughtfully organized. Where possible, avoid running conduit wires along the roof face, and instead run them internally through the attic and down a section of wall that is not visible from the outside. Inverters can similarly be tucked out of view where feasible, most appropriately on the side of the home or another area that is not visible from the street.
Above, you will see a SolarSkin installation in Weymouth, MA that follows our guidelines on both layout and wiring. The panels follow the shape of the roof, allowing for a contiguous block layout. Additionally, the conduit wire was run through the attic and to the inverter on the side of the home, out of sight.
The Takeaway: Solar Just Got a Lot More Exciting, and We're Here to Help
We understand solar is a big commitment for many homeowners, but it is not the clunky-looking, eyesore it once was. With new technologies and thoughtful installations, the transition to solar can be smooth and reduce many of the common visual disruptors.
For both commercial and residential projects, we at Sistine are ready to transition you to solar with your specific needs. We can supply photo-realistic renderings on site-specific designs. If you are a homeowner living in an HOA, aesthetics is especially important for you to consider. For examples and further detail on how to style your solar panels, download our solar panel style guidebook.
At Sistine Solar, we see a world in which design and curb appeal don't need to be sacrificed in adopting renewable technologies.
Below are images from some of our more recent installations, where you can see for yourself the innovative and creative ways solar is being utilized.
For the facade of a building in Minneapolis, Minnesota, we partnered with the architect in creating a distinctive and inspired solar panel array - a prime example of how visually appealing solar can be! You can read more about it ,here.
SolarSkin can also allow you to market your brand, as shown through our recent installation at the Vermont WhistlePig Brewery. Check out jaw-dropping drone footage of it here.