SolarSkin Inspires Innovative K-12 Solar Project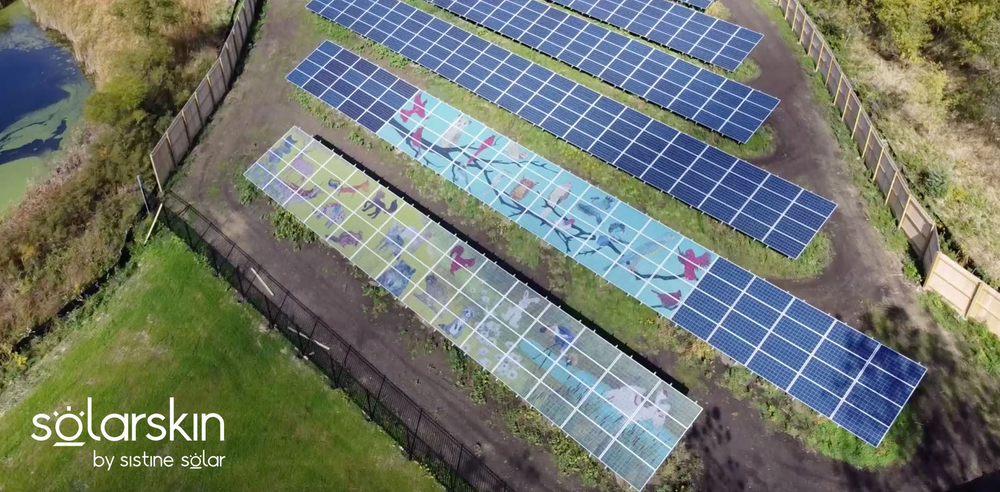 In this blog post, read about our recent project where SolarSkin™ by Sistine Solar became the impetus for green lighting a 1MW array and facilitated a unique hands-on learning experience for elementary school children in IL.
Video credit: Performance Services
Project Highlights
Project type: Utility Scale
Size: 1.02MW
End Customer: Kildeer Countryside CCSD 96
Project Developer: Performance Services
Artwork: Created by students at KCSD96
Modules: Jinko Solar
Inverters: SolarEdge
Location: Kildeer, IL
The Challenge
Performance Services, a leading national solar developer serving the K-12 and higher education markets, was faced with a unique and forward-thinking requirement from the local village board where Kildeer Countryside CCSD 96 is situated: the board requested whether the proposed 1MW array for the school district could integrate art to become a shining example fusing form and function. Turning industrial solar panels into a canvas for beautiful art? There is only one technology to make that happen, so the team at Performance Services reached out to us and enquired about SolarSkin™ by Sistine Solar!
The Solution
The Sistine design team went into action and researched design directions that would be appropriate and organic for KCSD96. With the district's name celebrating the cherished Kildeer bird, it felt natural to seek inspiration from the local flora and fauna. We discovered from the Kildeer Nature Center that the area is rich in many beautiful birds and animals, and we proposed a naturistic theme to the KCSD96 staff.
KCSD96 superintendent Julie Schmidt and assistant superintendent Jon Hitcho had a brilliant idea to build off of that – how about turning it into an art contest for students? It was one of those ideas that immediately resonated across the board! The Sistine designers put together an art template with suggestions for local wildlife, and then the KCSD96 staff ran a contest for students to each come up with drawings of one bird or animal of their choice.
If ever you needed an example of the power of art to inspire imagination, independent thinking, and creative brilliance in young minds, allow us to share just a few of the amazing pieces turned in by elementary school kids! Ranging from free-flowing line diagrams to resplendent colors to collages within a larger canvas, the creative genius of the children was on full display!
Photo credit: KCSD96 students
Inspired by the kids, the Sistine design team took the individual drawings and meshed them into two larger art pieces, one spotlighting local animals in lush green and yellow habitats, and another featuring local birds against blue skies.
The Outcome
With the magic of SolarSkin™, we brought those two pieces alive on the front two arrays of the solar installation. As they say, pictures speak a thousand words – check out the amazing drone footage captured by our friends at Performance Services.
A project that was supposed to be a routine solar installation ended up creating a blueprint for a new way to introduce young minds to cleaner and healthier energy sources. Through their experience, the children learnt about solar, became more familiar with local nature and wildlife, and got to exercise their artistic skills. Science, technology, art, and sustainability – KCSD96 is perhaps the first school district in the US to lay the template for a STEAM-based introduction to solar.
The Solar Foundation and Generation180 recently published a groundbreaking study that reports that over 7,300 schools in the US have gone solar. That is just 5% of all K-12 schools. As parents and teachers nationwide know, STEAM curriculum is an important part of a well-rounded education. This STEAM-based action learning experience pioneered by KCSD96 in partnership with Sistine Solar and Performance Services is a model that could be replicated in schools around the country, inspiring a whole new swathe of schools and children towards sustainability!
For more information on SolarSkin's power to transform your utility scale project, step ,here.