SolarSkin vs. Tesla Solar Roof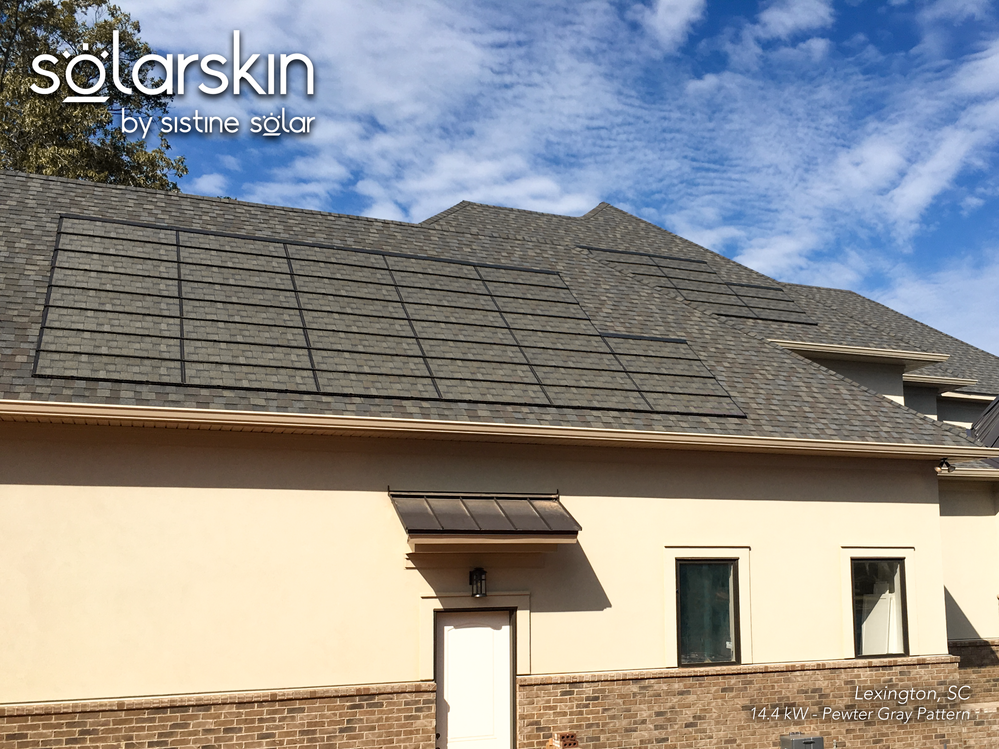 When it comes to innovations, many exciting things have been introduced to the solar industry in the last decade. One of the most prominent examples of this is Tesla, which has garnered much attention for the pursuits of its CEO Elon Musk, the development of its electric car models, and more recently the deployment of its solar powered roof. First installed in 2018, the Tesla roof has changed the way solar shingles are seen in the industry, having successfully created solar powered shingles that appear the same as non-active roof tiles.
The hope Tesla brings to the solar industry is aesthetics, but for homeowners looking to balance price, design, and a seamless installation, it is important to consider all aesthetic technologies out there. Sistine Solar's SolarSkin is an easy-to-implement option that fits the current infrastructure of the solar industry, being compatible with all brands and solar panel types, whether ,monocrystalline, polycrystalline, or any others.
SolarSkin is an aesthetic overlay to any conventional solar powered system. Its ability to transform panels to match any design, color, or surface makes it an asset to the aesthetically-minded homeowner. Here are five ways in which SolarSkin compares to the Tesla roof.
1. SolarSkin: Endless Options, Perfected to Your Needs
Tesla has committed to offering its solar roof in one option — a dark color that resembles roof shingles, which best fits homes that match this darker color palette. For homes with lighter toned roofs, such as terracotta clay tile, brown asphalt shingle, blue metal, or tan concrete tile, homeowners can find the perfect blend with SolarSkin.
SolarSkin allows infinite possibilities of high quality graphics, made to match your home's existing color palette and roofing material. Below, you can see how SolarSkin transformed the otherwise blue solar panels to blend in harmoniously on this South Carolina home. Making tough decisions on sacrificing visual appeal are no longer necessary when it comes to solar power.
6.4 kW SolarSkin installation in Hardeeville, SC
2. SolarSkin achieves double the efficiency of Tesla roof
Tesla's solar roof has been clocking in ,around 8-10% efficiency. SolarSkin, on the other hand, boasts efficiencies of 16-20%, which is comparable to some of the best modules currently offered to homeowners. We previously ,ranked current panel technologies by aesthetics, and regardless of if you choose polycrystalline, monocrystalline, or another module, SolarSkin matches your ideal performance.
What is truly innovative about SolarSkin is its ability to achieve unparalleled aesthetics while still maintaining high efficiency. Put simply, it is the most efficient aesthetic solar tech in the market. One of our recent residential projects in an HOA community in Indianapolis helped the homeowner ,generate 50% more electricity than before. See how harmoniously the solar panels now appear on his home.
3. SolarSkin is affordable for everyone, not just the affluent
Industry estimates indicate that the Tesla solar roof comes at a 33-50% premium to traditional solar panels, suggesting that its primary market is likely to be high income households. This would be in line with Tesla's new product strategy, which typically sees early versions targeted at the affluent and the costs being driven down over time to make later versions geared towards the mass market. Consider the target audiences for the Tesla Roadster vs. the Model 3.
SolarSkin, though, was designed for the mass market from the outset. For less than the price of a pro laptop, a SolarSkin installation is a worthwhile investment for any homeowner. Adding SolarSkin to your array not only boosts your curb appeal and home's value, but it also protects your panels from UV rays and other harsh elements. The list of benefits for the price you are paying is an advantageous way to preserve both the panels themselves and your home's aesthetics.
4. Tesla roof is geared towards new roofs, SolarSkin is applicable for all roofs
Because the Tesla roof is a product that is both solar and roof in the same, it can't be applied on existing roofs. It requires your current roof to be replaced. However, many homeowners are not in a situation requiring a new roof, but still excited at the prospect of going solar.
For them, SolarSkin is a perfect solution because it can be applied anywhere solar panels are installed. This allows maximum flexibility in the realm of aesthetic solar. SolarSkin is the best complement to existing solar modules, allowing your solar transition to be a breeze. Here, you'll see SolarSkin designed for a client who wanted an emerald pattern to match their roof.
5. SolarSkin has already proven its success, with installations in 20 states nationwide
Tesla's technology is ,being deployed in specific target areas, such as California, Florida, and Texas, and with ,the first installation in Massachusetts within the past month, the number of installations is continuing to grow slowly. Homeowners in other areas may wonder about when this solar roof installation will be able to reach their neighborhood. Certainly this may occur down the line, but a more immediate option would be SolarSkin. SolarSkin is available nationwide and we are proud to have customers in 20 states and rapidly growing.
One of our clients was initially considering Tesla solar roof for their new home build in South Carolina, but they were unsure if the technology would be deployed in time for construction. Eventually, they decided to work with a different company offering solar shingles, accompanied with SolarSkin. As it turned out, this method brought them even better aesthetics with ample versatility in design. This 14.4 kW installation seamlessly integrates solar power and sustainability into their new home.
Seamless SolarSkin installation on solar shingles
Successful deployments of SolarSkin have been seen all over the country, and with easy installation, any installer can be well-equipped to implement these aesthetic overlays onto your solar panels. We work with installers to get you the product you desire in a timely manner. See below an installation from Canoga Park, CA, that beautifully matches the terracotta patterned solar panels to the roof of this residential home.
20.1 kW installation of SolarSkin on a residential home in California
In addition to residential installations, SolarSkin has also been a part of several successful commercial projects, like this facade from Minneapolis, Minnesota.
The world's first custom designed solar facade, with SolarSkinn
This installation shows that boring, conventional solar is a thing of the past. With SolarSkin, solar power can be implemented into the very architecture of your building. More information on this custom solar facade can be found ,here.